The 90s was a time of connecting through pop culture, hip-hop, grunge rock, video games, and arguably some of the best movies ever. Back then, it was all word of mouth since internet access was a rare thing. Talking to someone was practically the only way to get local news, gossip, or find out whether or not your crush was single. There was also something called the newspaper that hardly anyone used unless you were one of the kids who checked it for Movie times at the local theater. The era of Beepers and VHS tapes is fondly remembered by the late 80's & 90s kids, and we can't help but wish to go back sometimes. Thanks to our new brand, Flashback, the nostalgia trip can be 24/7.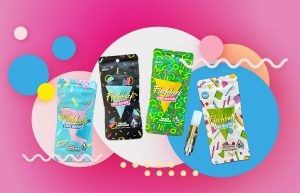 To start, we have the Flashback Live Resin Cartridges. When we harvest the selected plants, it is quickly frozen and then transported to processing to begin extraction. This practice allows us to better capture cannabinoids and terpenoids for the extraction process. The result is a live resin with a fuller spectrum of cannabinoids and terps. It is then injected into an AVD c-cell cartridge compatible with most 510-thread batteries and has a barrel mouth tip for big, clean hits. You can find strains such as Cherry Trop, Grease Monkey, and Blueberry at your local Farms Store.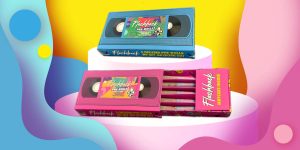 Next, we have the Flashback Deluxe Infused Preroll pack. Each pre-roll is made with .7grams of indoor, premium flower, and is lined with .3 grams of crumble. Five pre-rolls are carefully packaged inside our convenient "slide-out" VHS packaging to remind you of an easier time and to protect the pre-rolls.The pack comes with matches stored inside a little compartment with a strike pad on the side of the box. This product is an "all-in-one" situation where the potency, the flavor, and the ability to light one up right out of the box. You can pick up our Deluxe Infused Pre-roll packs when they launch on July 14th.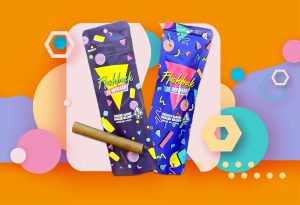 You might say we saved the best for last because the Flashback 2 gram Blunt is a powerhouse of potency, flavor, and design. Each blunt is rolled with premium indoor flower, but along the flower you have a strip of Rosin and a strip of Crumble. We put in a reusable glass mouth tip to bring it all together and to ensure smooth, big hits. At the next session, whip this out to impress and take everyone on a 90s trip. Find the Flashback 2g Blunts at your local Farms Store on July 14th!
In case you haven't heard! 
July 14th will also be the day we start selling Flashback Bundles! At participating Farms locations, you can get your choice of a Flashback 2g Blunt, Flashback Live Resin cart, a Deluxe Infused Pre-Roll pack AND a Flashback Fanny Pack stuffed with merch all for $50 post-tax! That is a $110 value for $50! Don't miss out on this!